Live listening music in cosy venues
"It's a delight to play here. Long may it continue." John Doyle.
"This is a great venue. I have really, really enjoyed playing here." Martin Simpson.
"I really like this little venue." Pierre Bensusan.
UPCOMING EVENTS:
© Pindrop Events 2020
Åkervinda
Date:
Saturday 29
th
February 2020, 8 p.m.
Venue:
The Ale House, Mill Lane Colwall WR13 6HJ
This event was held on Saturday 29
th
February 2020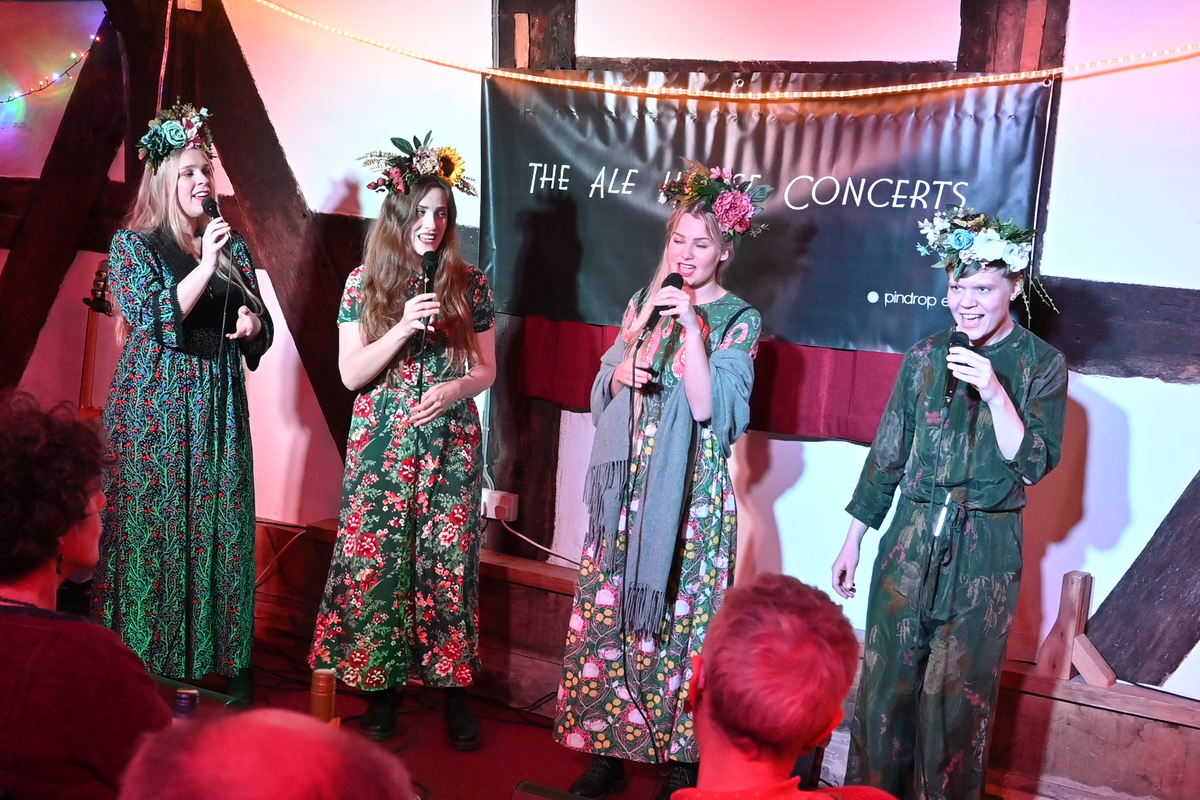 The Artists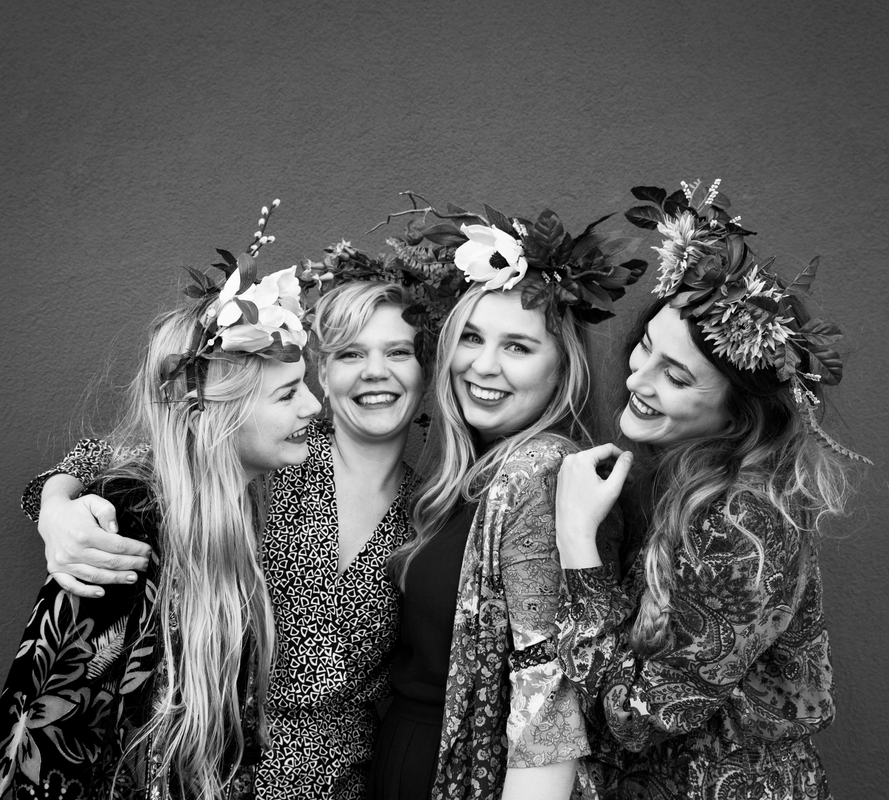 Jazz singers at heart, the four members of vocal quartet Åkervinda share a deep love of folk music and give new life to the Scandinavian folk tunes in their original and modern interpretations. The group released their second album 'Förgänglighet' in Spring 2018. It was nominated for a Swedish Grammis in the category "Folk music of the year". Förgänglighet - the passing of life - is a tribute to all the things that withers away and a celebration of life in summer as well as autumn.
Like so many storytellers and artists before them, Åkervinda carry tales of women throughout the ages, embodied in a visual musical live performance.
Ever since their breakthrough at the Aarhus Vocal Festival in Denmark in 2015 the group have performed at an array of European vocal festivals and folk venues and at venues in Canada and the USA. The group had their TV debut at the famous Swedish TV show Allsång på Skansen in July 2019.
Said about Åkervinda:
"I am spellbound by these four gorgeous voices breathing as one, telling stories that transcend language barriers. Their arrangements are invigorating, inspiring and grounded in a deep understanding of folk traditions." - Edward Randell, The Swingles
"Åkervinda simply blew the canvas off of the tent at the Nest's Stage at Shambala Festival. It was wonderful to see 500 hedonism seeking festival goers stop in their tracks sit and listen to these ancient songs sung with such power and energy. A memorable experience for all!" - Sam Lee, The Nest Collective, London
"Åkervinda... Ethereal, magical, folky in a spot on 'serious musicians here' kind of way. There were no rough edges to this warm up act; only tight harmonies and an upfront execution of some stunningly difficult folk tune arrangements. This quartet of women had the audience literally begging for more." - Vocal Australia, London A Cappella Festival
"It is wonderful to hear pure voice—so ancient, so eternal, so moving. Their voices and songs resonated with everyone." - Norwegian American Weekly, Brooklyn
Åkervinda is: Iris Bergcrantz, Agnes Åhlund, Linda Bergström & Lise Kroner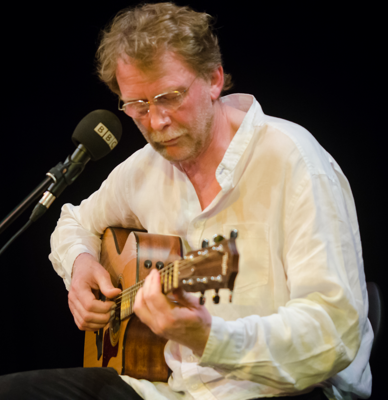 Ken is the host of the Ale House concerts and performs with Emma Stone, Paul Smith and Greg Knowles as the group "Appleby Stone."
The Venue
The Ale House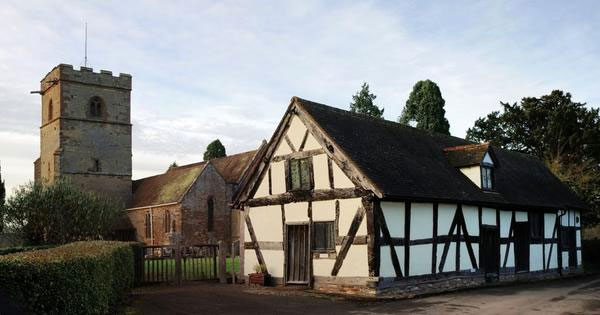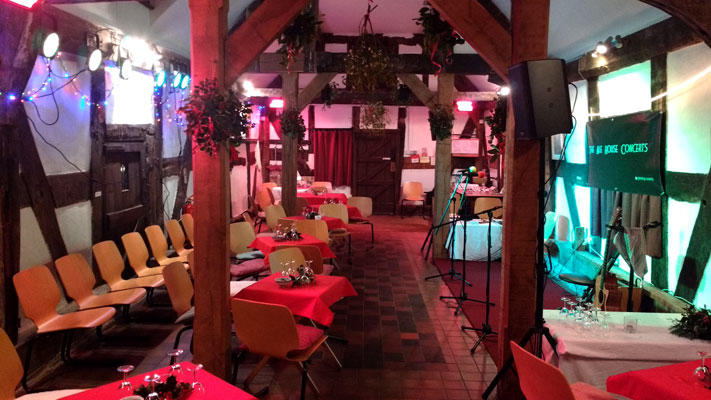 Mill Lane Colwall WR13 6HJ
The Ale House is a delightful and intimate concert venue, with warm acoustics.
Despite its name, there are no bar facilities at The Ale House and events there do not normally make alcoholic drinks available for sale. Most events, however, are bring-your-own. Wine glasses are made available.
The absence of a bar also has the highly desirable effect of ensuring the 'pindrop' atmosphere is maintained, with audiences intent only on the music.
In the 16th Century The Ale House was a place to serve ale to the parishioners of Colwall after church services. Nowadays, while having all modern facilities, it retains its ancient charm, with oak beams and leaded windows.
It is situated adjacent to St James the Great Church in Colwall. From the main B4218 going through the main part of Colwall, turn down Mill Lane, which is just north of the railway bridge. Go past Colwall Village Hall and the church is about half a mile further down the lane.
Park in the large car park next to the church and walk through the churchyard to the Ale House.
For reasons of safety parking is not allowed immediately adjacent to the building.
Disabled Access
The Ale House is fully equipped for wheelchair access.
There is a pull-in space by the main door at the south end of the building (shown in the picture) for drop-off.